MG Lola EX257 LMP675 Chassis #003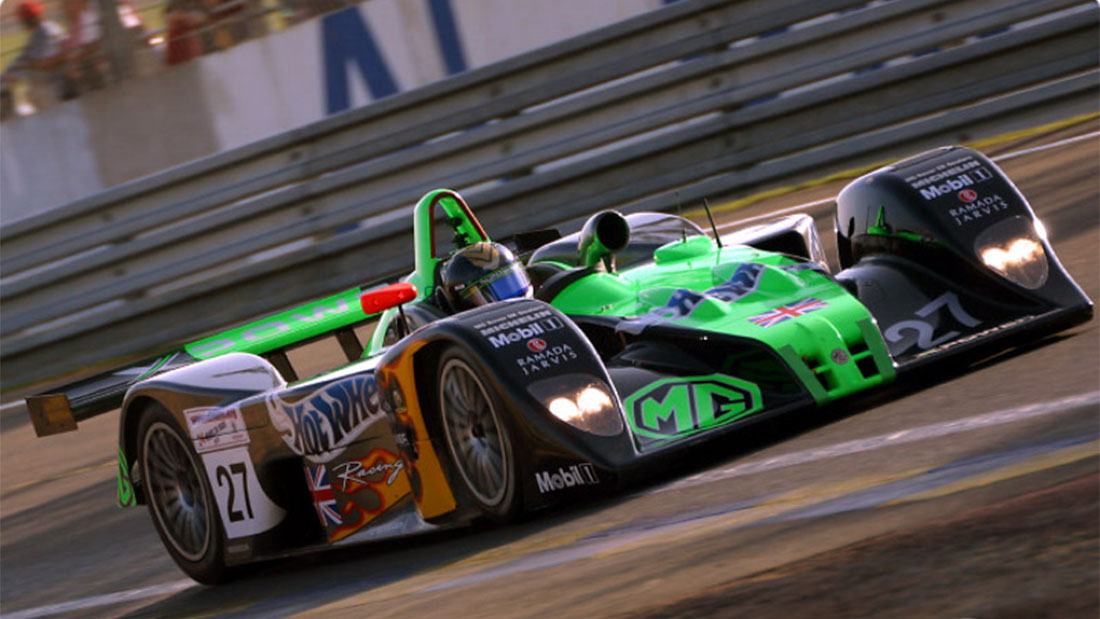 Our MG Lola EX257 LMP675 chassis number #003, highly competitive for Gp2/P2 in the 2018 Masters Historic Racing Endurance Legends Championship, is available for sale, freshly race prepared by RML and ready to go, complete with newly refreshed AER engine.
Original MG Works car raced at Le Mans in 2001 (#33) and 2002 (#27) with Mark Blundell, Julian Bailey and Kevin McGarrity.
Optional 'Arrive and Drive' support is available - two packages available.
£POA. Initial enquiries by telephone to: 07800 715450, or email us.
History:
This is one of the original MG Works car raced at Le Mans in 2001 (#33) and 2002 (#27) with Mark Blundell, Julian Bailey and Kevin McGarrity.

Pre race testing was undertaken with #001 and #002, with chassis #003 delivered directly before the 2001 Le Mans 24Hr race.

Technical Specifications #003
MONOCOQUE

One-piece carbon fibre composite monocoque chassis/survival cell
BODYWORK

Bodywork is carbon fibre composite. The rear wing is of a lightweight composite construction.
FRONT AND REAR SUSPENSION

Upper and lower steel-fabricated wishbones, pushrods and rockers transmitting the loads to dampers (3 way adjustment). Front and rear uprights are fabricated from aircraft spec steel.
Quick change anti-rol bars front and rear. Suspension set_ups to be developed using Lola in-house seven-post test rig.
GEARBOX / TRANSMISSION

6-speed sequential-shift unit with lightweight magnesium main case
BRAKE SYSTEM

Hitco Carbon brakes, discs and pads. AP Racing callipers and master cylinders
Dimensions: Front & rear vented brake discs : 355mm diameter x 35 mm
ENGINE INSTALLATION - Engine mountings via A-frames transmitting loads low to rear monocoque
- AER designed (MG XP-20) in-line 2.0 liter 4-cylinder turbocharged & intercooled developed by AER
Garett single turbo with Pectel injection, c. 540hp, with top speed potential of c215mph
INSTRUMENTATION - Pectel with Integrated Wheel Display.

WHEELS & TYRES

Oz Wheels. Dimensions:
- Front 18" diameter x 11" wide
- Rear 18" diameter x 13" wide
Tyres
- Front: 270/650 x 18"
- Rear: 310/710 x 18"
DIMENSIONS AND WEIGHT

Overall and Bodywork dimensions within LMP675 rules. Target weight of regulation of 675 kg for complete car, typical weight 690kg.
Length - 4500 mm
Width - 2000 mm
Wheelbase - 2700 mm
Track Front - 1750 mm
Track Rear - 1600 mm
ELECTRICAL / ELECTRONICS - Pectel-designed and manufactured electrical system. Military-spec wiring loom with modular engine loom for ease of installation.
12-volt heavy duty battery to cope with all engine starting conditions
Plug for jump battery or battery charger
4 headlamps in nose section and two rear brake lights plus indicators.
Emergency power cut-off switch as per ACO regulations
COOLING SYSTEM - Aluminium water and oil radiators & intercoolers
FUEL SYSTEM - 90 liters tank
STEERING - Rack and pinion. no power assist.